Our strategy

Lifewater funds projects to distribute water purification systems and educate communities about the dangers of water-borne diseases.

How Lifewater delivers charity water projects
Working with teams in developing nations, Lifewater effectively responds to community needs in practical and socially relevant ways. We raise support, identify projects, run training and distribution workshops and distribute Lifewater systems to households, schools, health centres and community centres. We also engage in monitoring and evaluation to ensure that our water projects are sustainable and fulfil the promises we've made to our partners and sponsors.
Our strategy for providing clean and safe water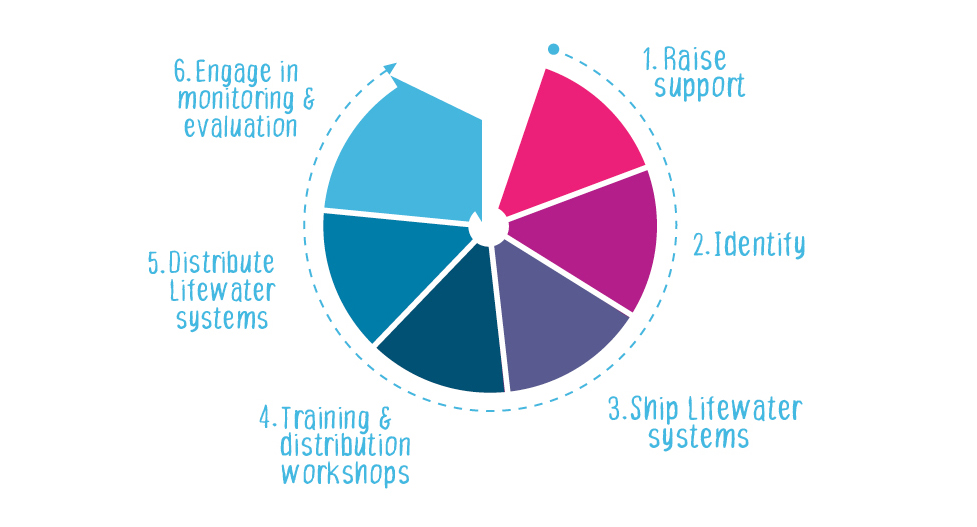 Our international teams also support projects where necessary resolving any equipment issues and providing basic water and sanitation education which forms part of the workshops.
The technology
Our water purification kits
Distributing Lifewater purification systems is at the heart of what we do. These low-cost kits transform dirty water by filtering out dangerous pathogenic bacteria, parasites and cysts which cause water-borne diseases.
Get involved today
Key to our work is partnerships with individual and corporate sponsors. Would you consider partnering with us today?
Sign up to Lifewater news